Personalized
LDS maintains staff of well experienced professionals who are trained and educated in safety procedures and communication.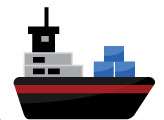 Cost Effective
Our consolidation services make us able to offer you cost effective shipping. Staff work directly with you to determine the most efficient and cost effective method to move your product.

Customized
LDS provides comprehensive reporting that assists you in managing your shipments accurately. These can be completely customized to your specific needs.